8. Output and Visualization
Our web server provided constructed network and subnetwork result for users donwloading. The network result is used to depict the genome-scale gene interactions; The subnetwork results is used to depict the identified subnetwork based on the constructed network and seeded Probset ID/Gene List. Meanwhile, our server provide function to visualize this subnetwork based on the Build-in Cytoscape Web Plugin.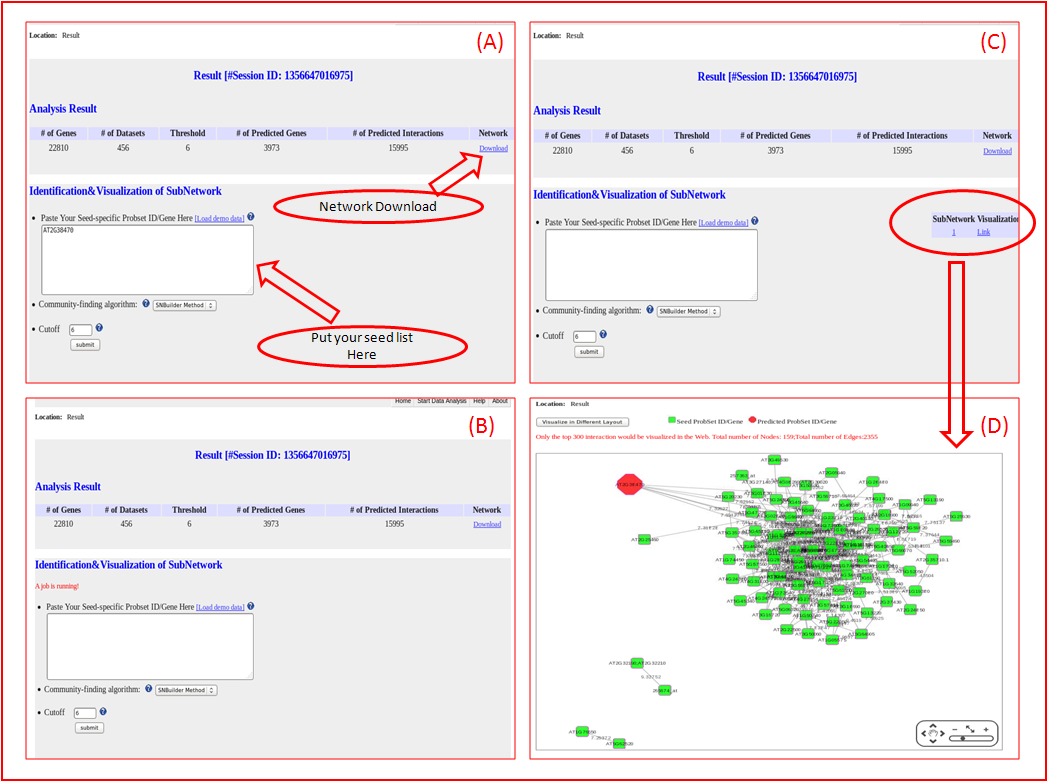 7. Reference:
1. Faith, J.J., Hayete, B., Thaden, J.T., Mogno, I., Wierzbowski, J., Cottarel, G., Kasif, S., Collins, J.J. and Gardner, T.S. (2007) Large-scale mapping and validation of Escherichia coli transcriptional regulation from a compendium of expression profiles. PLoS Biol, 5, e8.
2. Kumari, S., Nie, J., Chen, H.S., Ma, H., Stewart, R., Li, X., Lu, M.Z., Taylor, W.M. and Wei, H. (2012) Evaluation of gene association methods for coexpression network construction and biological knowledge discovery. PLoS One, 7, e50411.
3. Reshef, D.N., Reshef, Y.A., Finucane, H.K., Grossman, S.R., McVean, G., Turnbaugh, P.J., Lander, E.S., Mitzenmacher, M. and Sabeti, P.C. (2011) Detecting novel associations in large data sets. Science, 334, 1518-1524.
4. Aluru, M., Zola, J., Nettleton, D. and Aluru, S. (2012) Reverse engineering and analysis of large genome-scale gene networks. Nucleic Acids Res.
5. Hu, X. and Wu, F.X. (2007) Mining and state-space modeling and verification of sub-networks from large-scale biomolecular networks. BMC Bioinformatics, 8, 324.
6. Kohl, M., Wiese, S. and Warscheid, B. (2011) Cytoscape: software for visualization and analysis of biological networks. Methods Mol Biol, 696, 291-303.
7. Parkinson, H., Kapushesky, M., Shojatalab, M., Abeygunawardena, N., Coulson, R., Farne, A., Holloway, E., Kolesnykov, N., Lilja, P., Lukk, M. et al. (2007) ArrayExpress--a public database of microarray experiments and gene expression profiles. Nucleic Acids Res, 35, D747-750.
8. Qiu, J.L., Fiil, B.K., Petersen, K., Nielsen, H.B., Botanga, C.J., Thorgrimsen, S., Palma, K., Suarez-Rodriguez, M.C., Sandbech-Clausen, S., Lichota, J. et al. (2008) Arabidopsis MAP kinase 4 regulates gene expression through transcription factor release in the nucleus. EMBO J, 27, 2214-2221.
9. Birkenbihl, R.P., Diezel, C. and Somssich, I.E. (2012) Arabidopsis WRKY33 is a key transcriptional regulator of hormonal and metabolic responses toward Botrytis cinerea infection. Plant Physiol, 159, 266-285.
8. Funding:
This work was supported by National Science Foundation (Grant ABI-0960897) and the Samuel Roberts Noble Foundation.
9. Contact:
To contact us, please write to: bioinfo AT noble DOT org